The Standard Fields tab is where you can create and edit key information of a Product including; Name, Slug, Release and Expiry Date, and Product Content. You can also enable or disable this Product, and add in an image and a description.
Where can you find 'Standard Fields'?
From your list of Products, click the name or the pencil icon to the right-hand side of an existing Product to view the 'Standard Fields' tab.
https://image.siteglide.com/jkuE1RmZ
Standard Fields Overview:
Here, you can manage and edit key information about your Product, such as:
ID - This is the Product's unique ID in your site's database. It is generated automatically when you first save a Product.
External ID - This is a unique ID which is helpful when importing and exporting data. It is generated automatically when you first save a Product.
Item Name - The name of your product
Item Slug - This will display at the end of the URL for the Product detail page. (To change the preceding slug, go to eCommerce / Settings in the left-hand menu.)
Weighting - Controls where your product appears in a list view if it is sorted by weighting.
Release Date - The date your Product will become visible on the site. This can be used to plan a Product Launch.
Expiry Date - The date your Product will be discontinued on the site. It is possible to change this after expiry.
Enabled - If toggled to false, the product will be hidden from the site. This is useful if, for example, a Product has been temporarily recalled.
Description - A description of your Product.
Image - It is possible to add further images as custom fields. See custom field sets.
Product Code (SKU) - This is the product code you use within your business (usually on barcodes) to identify this product.
View Item
Use the "View" button at the bottom of this area to view this item on the front-end.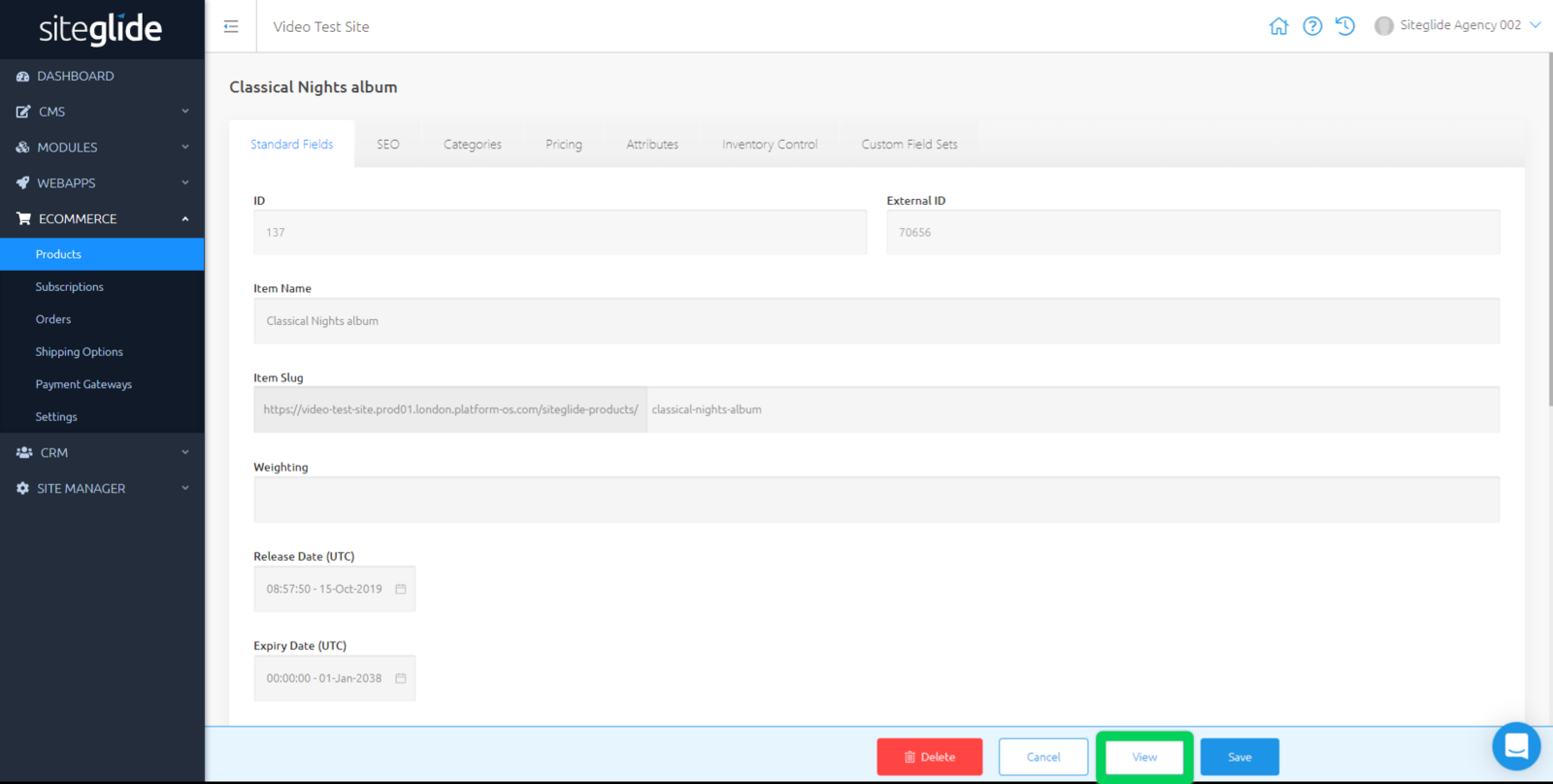 Related Documents: