You can view the usage of each site via the Subscriptions tab in the Site Details area: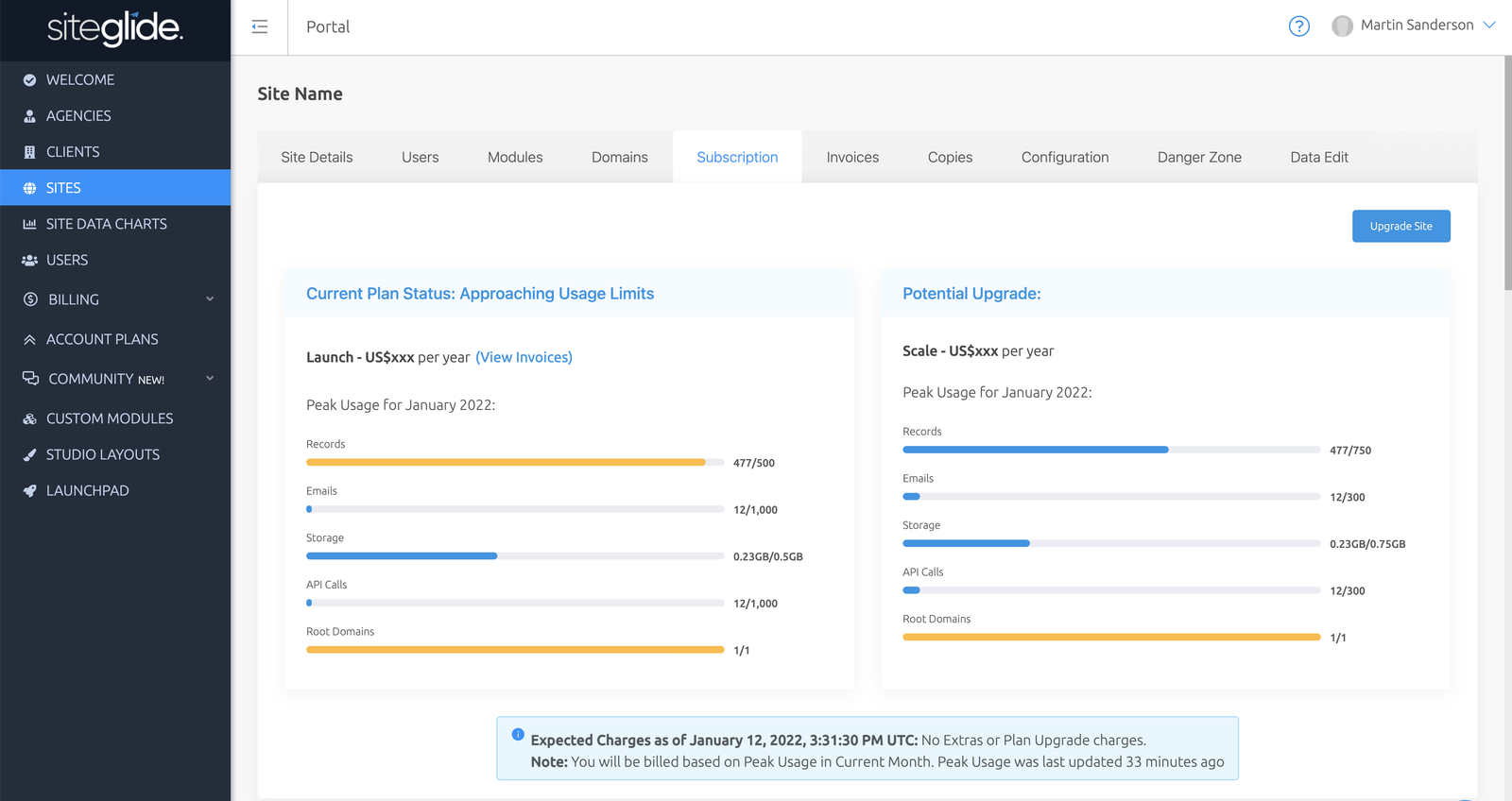 You can see exactly what each site uses broken down into high-level types of infrastructure usage and then down to specific Siteglide features to help show more value to clients.
For example, you can see the total number of Units but the real value is seeing that this is made up of CRM Contacts, Form Cases, WebApp items, Module Items, Products and much more.
Note: External API calls are unlikely to be used for many sites if you're not working on platformOS directly via CLI.
When comparing the cost of the various different tools required to achieve the same result and then trying to somehow connect them all together you can show huge savings to clients both in terms of cost and time.
How our usage-based billing works:
Storage, Records, Domains and Client Admin Users do not reduce unless deleted.
Emails, API Calls and Bandwidth renew each month.
You are billed based on the peak usage each calendar month.
Deleted items count towards peak usage for that month but do not count in subsequent months.
Once you hit 70% usage of any metric it will be marked as orange as a warning.
Once you hit 100% usage of any metric you will start incurring Extras.
If you have Automatic Upgrades turned on and the cost of Extras exceeds the difference in cost to upgrade to the appropriate plan the site will automatically be upgraded on the 1st of the following month. Please see Subscription Changes 2021 for full details.
You can manually upgrade or downgrade to any plan once per month but if the new plan doesn't cover the usage you will be charged overages.
We do not downgrade automatically as we do not know what usage will be required in a given month and assume most sites increase in usage as the business grows and the site becomes more successful/popular.
Other useful billing links: