Prerequisites
You have installed the eCommerce Module in Site Settings
You have an account set up on one of our supported Payment Gateways (listed in this document)
Introduction
You need to set up a Payment Gateway in Siteglide in order to take payments via eCommerce.
You can add multiple Payment Gateways, but only one can be enabled at once- and this will be used across all eCommerce forms on the site.
How to set up
In the Siteglide admin panel, you want to navigate to ECOMMERCE>Payment Gateways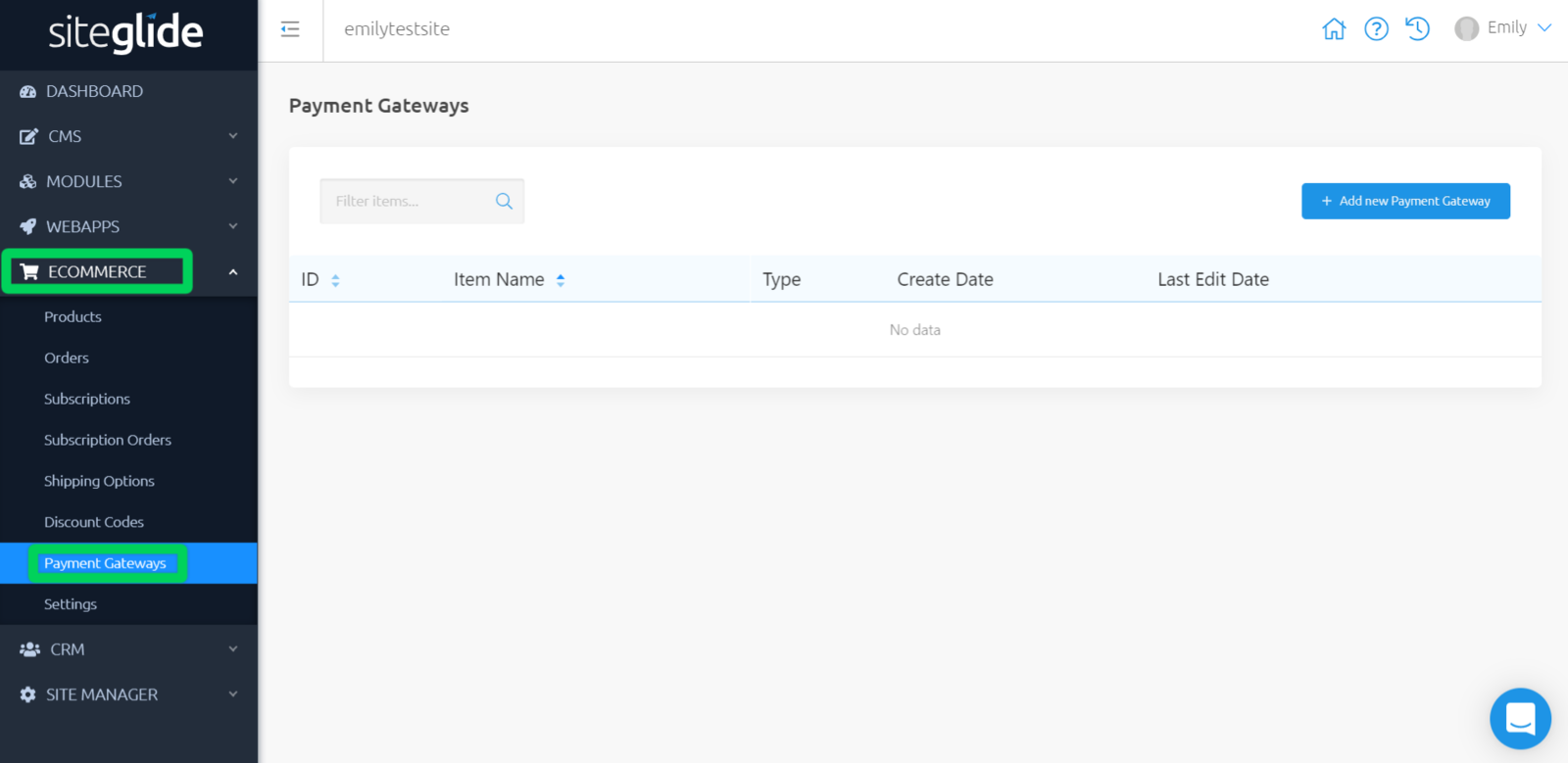 Click 'Add new Payment Gateway' in the top right, and fill in the following details:
Gateway Provider - Choose from a dropdown of our supported Payment Gateways
Name - Set a friendly name for reference in the list view in Siteglide
Enabled - This must be true if you want the Gateway to be active
In Test Mode? - This determines which key pairs are used when taking a payment. When you start out, you probably want this set to 'true'. Once you're ready to go live, it should be 'false'.
Payment Gateways typical provide 2 keys for each environment (live and testing).
The names of those are specific to the Gateway. See below for what we expect from each Payment Gateway.
Stripe:
Public Key (Live) - pkliveXXXXXXXXXXXXXXXX
Secret Key (Live) - skliveXXXXXXXXXXXXXXXX
Public Key (Test) - pktestXXXXXXXXXXXXXXXX
Secret Key (Test) - sktestXXXXXXXXXXXXXXXX
Authorize.net
Public Key (Live) - API Login ID (live)
Secret Key (Live) - Transaction Key (live)
Public Key (Test) - API Login ID (sandbox)
Secret Key (Test) - Transaction Key (sandbox)
PayPal
PayPal Client ID (Sandbox)
PayPal Client Secret (Sandbox)
PayPal Client ID (Live)
PayPal Client Secret (Live)
Once you have entered the above IDs and Secrets, there is no need to generate a token- we'll do this for you automatically and store this in the database.
Minimum payment amounts
Some Payment Gateways enforce an minimum transaction value. Typically this is because they charge a small fixed transaction fee, so need a minimum transaction value in place to ensure you don't lose money on the charge.
These minimum amounts are documented by the Payment Gateway:
Test cards and data
Instead of having a single account and allowing you to toggle between Test and Live modes, PayPal requires you to create a Sandbox Account if you wish to test your integration. You can do so here: https://www.sandbox.paypal.com/uk/webapps/mpp/account-selection
When prompted, choose a business account from the options.
Testing
Related Articles